Download the
TA-Power profile
for TA











We release the TA:K Creon tileset for Total Annihilation!
Download the first Creon map for TA
Posted by Wotan & Silencer , 03-24-2002


The conversion of all the TA:K tilesets for TA is going ahead. This time our newest member, Wotan, has completed the Creon conversion.



Click here to enlarge the screen shot

Just to remind you that the TA:K to TA Tilesets Conversion Team has already converted Taros, Veruna and now Creon. Aramon and Zhon tilesets are both in the queue... but today is Creon's party and this is what Wotan has to say to you all:

Well, here it is at last - The Creon TA:K tileset for TA and a new map to boot!. If you're interested in just exploring the world of Creon, just download the map, which includes the all of the necessary features you will need. There are quite a few new features here so the file size is a bit on the large side (10MB), but I think you'll find the extra download time worth the wait. This map is strictly an introduction map showing off the sections and features of this terrific new tileset. No fancy AIs or new units here, but it is great for a quick battle or just a walk in the park while enjoying the scenery ;)
For those of you who wish to delve into map making with the Creon tileset, you'll need a bit more patience. There are a number of files that will be required and these are not small either - almost 60MB worth of downloads when all totaled. Once you have all the sections though, you'll be well on your way to making great new maps of your own. Enough from me then, get the map and the files and have some fun!

Note: If you dowload both the map and the tileset, you will not need to download the Creon_Feature.zip file as Wotan has included this data with the map itself.

So here below I post the 8 links to the tileset files (all files are in zip format):

Warning: These links do not work yet due TAMEC's server crash

File 1: Creon_Main file

File 2: Berms and Forts

File 3: High Towns and Roads

File 4: Hills and High Specials

File 5: Low Towns and Roads

File 6: Mountains and Snow

File 7: Rivers

File 8: Features


Bonus : Download the first Creon map for Total Annihilation!


PS: These files will be uploaded to TAMEC soon. Now have fun making these cool Creon maps we all want to play in TA!


Green completion tileset BugFix
Posted by ChinaHook & Silencer , 03-17-2002


ChinaHook has already uploaded to TAMEC's utilities section a file which contains some few fixed tiles for our recently released Green Completion Expansion Tileset. The file fixes bugs in some of the tiles which don't show height values in the TAE editor. This file correct the following errors:

- BigMountain06
- Pool15
- NewIsland06
- IslandShalow11
- Hills219_01, 04, 07, 14, 15, 16


Important warning: If you are using the Annihilator editor then do not download this file; because this file is only for TAE users.

Warning: These links do not work yet due TAMEC's server crash

Click on here to download the BugFix file


The Core KrogTaar ... 'Who Protects de War'
Posted by Silencer , 03-09-2002


The newest revision for the ‹berHack mod (not for the Original TA). This is what I've changed in this unit:

- Improved model; it has been rescaled too
- New corpse model
- Unit/weapon slightly rebalanced. Special button for the UW torps added
- New weapon gaf explosion, also I've edited a new unique weapon sound
- Improved animation and UW sfx
- New build picture made by Sinclaire
Click here to download the KrogTaar revision for ‹berHack


As you probably know, our Experimental Kbot II is built in the Core Gantry. Also, it is immune to paralyzers and it has amphibious capabilities. The OTA version will be posted on here soon. Remember to send your comments about this unit and have fun blewing up metal things!


Expansion Spider Pack for OTA fixed
Posted by Silencer , 03-03-2002


I've reinstalled OTA on my computer, checked and fixed it my self, so no more crashes or probs. The multi-direccional labs have been removed. Sorry for the inconvenience..

Click here to download the fixed OTA Expansion Spider Pack


OTA Expansion Spider Pack ready for the download
Posted by Silencer , 03-01-2002


Well, here it is the OTA (Original TA) version; read the previous posts below about the Spider Pack as well as the readme.txt file for further information:



Click here to download the OTA Expansion Spider Pack

(Read below about the new spider sounds unit class included in the pack)

- The units included in the TA-Power Expansion Spider Pack are :

Multi-directional Spider Labs, Construction A-t K, Lightning Assault, Flakker, Stealth Radar, Minelayer, Jammer, Resurrection, EMP Bomb, Missile Launcher and paralisis A-t K (All-terrain Kbot). Cavedog's Arm Scarab is in too.

- Some of the cool features included in the UH version have not been removed. So you'll be able to build multi-directional labs in OTA and an UH spider (the Recluse made by BSR) too. Both minelayer and flakker spiders are OTA style, course. The Improved jammer spider script remains though... Also I've included new improved spider lab gaf/gui files which BirdDog1 made and sent to me ;). (These files will be included in the UH version 4 soon)

Okay; Enjoy and stay tuned 'cause we have got a bunch of new unreleased TA stuff.. heheh .. Go Spider!!


TA-Power profile for the MS Sidewinder Strategic Commander
Posted by Silencer , 02-28-2002


VanTheMan has made this profile for you all who play TA using a Strategic Commander device. Some notes about the profile:

- The Zoom keys are used from speed up and down the velocity of the game

- You only will be able to create 4 groups with this profile

- If you want to repair multiple units, then click on lv1 + Button 6 ( Repair ), then click on the Button 1 (Multiple Commands Button) and leave it pressed while you select the units to repair

- The 1K energy and metal option is only for skirmish games; Etc...

- The recorder options are for use with TADemo Recorder 0.97B only, which can be found at the Yankspankers site. Without any doubt it is a worth download so it will help you to record your TA multiplayer games.

Have a look at the readme file for further information. Said that, you may click here to download the profile. Also you could visit the Sidewinder site to see these awesome new devices already available for our games ;)


A must read...
Posted by Silencer , 02-25-2002


Our folks at TAMEC have interviewed the designer and creator of Total Annihilation, ladies and gentlements, boys and girls, chuckies .. Mr. Chris Taylor!.

As you probably know Chris Taylor left Cavedog after to finish The Core Contingency and founded his own company, GPG (Gas Powered Games). Moreover, they've interviewed Kinboat, the very well known TA fan who developed the Annihilator mapmaker's tool and who is currently working at GPG. The dream made reality eh?... =)

Enough said; visit TAMEC to read both interviews now

PS: Unfortunatelly Firehawk has not asked CT about the TA-Power Spider Pack, but I've been reported about that he has played it too... yeeehaaaa ;)


Green completion tileset available for the download
Posted by ChinaHook & Silencer , 02-21-2002


We provide you mapmaker with a very interesting expansion for the Cavedog Green World. ChinaHook has been the man who has created it. From now a huge amount of new sections will be available for your maps: Mountains, big mountains, huge mountains, pools, flat / concave / convex / ravine sections, slope way and slope corner sections, river and river mouth sections (what is a world without rivers ?. A garden without flowers. =), shore-shalow and shalow-sea sections, winter EG and snowIce transitions... Woah!, another high quality work and this is what ChinaHook wants to tell you:

The 'Green Completion tileset' files allow you to include new and not-supplied tiles for your Green World maps. This is the first tileset extension of our Completion Series Proyect. After this extension for the Green World, I'll work on more worlds as Urban, Lush, Archi, Etc. The next extension tileset will be available soon, as always on TA-Power's news page ;).

Warning: These links do not work yet due TAMEC's server crash

Empyrrean Messas map is a sample of this expansion tileset. The map has been well rated by TAMEC with a 9 overall. So check it out and spread tons of wreckage on it!
Click here to download Empyrrean Messas



Our newest expansion tileset has been uploaded to TAMEC in 9 files:

GreenCompletion(1) GreenCompletion(2) GreenCompletion(3)

GreenCompletion(4) GreenCompletion(5) GreenCompletion(6)

GreenCompletion(7) GreenCompletion(8) GreenCompletion(9)

Ok, that's all for now, stay tuned

PS: Archive and AI' sections have been updated


New Core Cracker for OTA (original TA)
Posted by Silencer , 02-16-2002


Wow!, I've had a lot of fun playtesting this one. These are the unit tweaks made for this revision:

- Tweaked models. Retexturized corpse model.
- New weapon model ( you'll say me if it looks cool or not in the game ;).
- Unit and weapon have been fully rebalanced.
- Unitsonly weapon tag removed. From now its weapon is ballistic.
- New build picture; Improved unit sounds... Read the doc file for further information.



Click on the picture to check the Core Cracker out; and have fun!


New TA-Power member
Exclusive screen shoots
Posted by Wotan & Silencer , 02-15-2002


I'm glad to officially announce Wotan as our newest member here at TA-Power. He'll be providing you new maps and tileset art as well as other TA gifts which he plans to make soon. This is what he wants to say you all:

Hello all, as you probably know, I'm working hard in the Creon Tileset conversion for TA. Progress is coming along nicely on the tileset and look forward to a demo map along with the actual tileset before the end of the month! I was also invited to join up with the awesome folks here at TA Power and snatched up the opportunity right away. With some really great map and unit makers already on board, we are going to be releasing some very special stuff for you all in the near future. I can hardly wait myself! -W

So welcome aboard!. These are exclusive Creon tileset screen shoots:



Click on a picture to enlarge



as bonus an screen shoot of the revised Cracker



That's all for now; but stay tuned cause we have releases for this weekend.


Spider Pack v3 ready for the download
Posted by Silencer , 02-10-2002


First of all, this version is for ‹berHack but I plan to release an OTA version soon.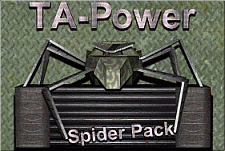 Click here to download the Spider Pack v3

Now I tell you what's new :



- Resurrection spider added. Cavedoggies were planning the release of both Arm and Core resurrection units; but it never hapened. The Arm rez tech. is available now but at expensive cost (almost x3 core's version costs). However the versatility of the Rector deserves the cost inversion effort.



- An unique Emp spider bomb unit has been added too. The Invader build menu has been removed so this new unit replaces it and fits much better in the Spider Lab .

- New spider sounds unit class: I've made 9 new spider sounds and a new deactivation jammer sound. If you're playing the UH v3.0 then you must place the sound.tdf file included in the pack into the gamedata subfolder into your TA directory. If it does not exist then just create it and move in our sound.tdf file.

- Improved jammer spider script. Now it deactivates for a while when it takes damage; and some few minor unit improvements.

I'll be 99% satisfied if you've the half of fun that I've had playing with this new version. And stay tuned in the next week, because TA-Power's Maps Festival goes on!


Arm Consul revision for UH
Posted by Silencer , 02-08-2002


The OTA remains as it currently is. However the ‹berHack version has been tweaked in order to fit better in the mod. Here are the changes :

- Costs have been reduced.
- Now it builds heavy level 1 defenses. Bonus: Also the light mine
- It builds the multi-directional vehicle plants too.
- Slightly improved WT, little radar added, and some other minor tweaks...

Click on the picture to download the Arm Consul revision



I've polished the site a little bit. Notice the changes? Take care and behave


New TA-Power's member
Posted by Silencer , 02-04-2002


I'm proud to welcome joshcomm1 as new TA-Power's member. Welcome aboard my friend!. As you probably know he's is currently TAMEC's Team Manager, also he was TAMEC's Head Reviewer as well as a well known active veteran TA mapmaker. Here I post his newest map for your all pleassure:



Click on the minimap to download our newest map from TAMEC

Never again v1 will carry you to a new marvellous desert world. With an extraordinary layout, this map full of resources and with a very good gameplay is without any doubt a worth download for you, Commander.

Click here to read TAMEC's detailed review and stay tuned


3 new unit revisions x 2
Posted by Silencer , 02-02-2002


First of all telling you that we're back to the old revision numers system for our units, so no more final versions posted on TA-Power. Final version means that the product is perfect or that the product's author have lost the interest... In our case both premises are false: 1.- we're not perfect (just almost, lol) and 2.- we're still interested in the making of cool TA stuff. Enough said about this matter, so my bad...

The revisions are :

Arm/Core Juno Project v5: I've just added both jammer and radar spiders into their damage modifiers lists.



Download The Juno Project, OTA and UH compatible.

Arm Demolisher v6: Major changes here. Model slightly tweaked. Re-balanced unit stats. Weapon tweaked. Improved script, new BP, etc. Now both OTA and UH versions are available.


Download the OTA version Download the UH version

Arm Nova v3: Major changes too. Re-balanced unit stats. The Nova uses the same tweaked weapon as the Demolisher now, so 2 units = 1 weapon id ( I like this formula); new BP, retexturized corpse, etc. Now both OTA and UH versions are available. I've to say it again.. what a kick-ass model made by NJ_THUG!.



Download the OTA version Download the UH version

I've enjoyed a lot playtesting these units in the game, so I expect that you'll do the same. Kick-ass BPs eh? .. The Demolisher BP have been made by our newest member Sinclaire, the Nova BP has been made by Faramir_gr. Read the doc placed into each zip file for further information. Said that, check out your metal cookies and have fun!