News: ( This site is best viewed with MS IExplorer )



Answers, answers ...
TA-Power logo contest! =)
Posted by Silencer, 06-07-2000


...Fans are asking about the unit pictures that I've posted here on, as well as sending suggestions for the new plane concept. Okay, I give you some answers.

About the plane: The most attractive idea that I find for this airplane concept is to make it a generic bomber for Core. There're a wide variety of bombers in TA, but this will be a non-conventional one.. guaranteed

About the cannon which appears in the Intruder screenshot: It is being play-tested. that's all I can say for now sorry. Okay.. it is for Arm =P

All other units (less the Core Cracker) are posted on our Units Section, so have a look at them to know what they are.


...Yup, a TA-Power logo contest =) want to see your creation here on each time you visit TA-Power? Then send us your TA-Power logo concept

The logo should include these colors: Yellow and black. Blue and gray colors are optional but allowed too. The required size is between 500x100 and 500x75 pixels. Copyrights and author names/nicks on the logo are not allowed. The logo must be in GIF format, and it has to be sent to us into a zip file.

Click here to send us your logo idea. The winner will be the first one in playing our next unit, even before its release here at TA-Power. His name will be posted here on and his logo will be placed on the top of the page =)


The TA-Power logo contest ends on 06/14/2000 and starts ... now! =)


Sorry clones. I couldn't resist it ...
Posted by Silencer, 06-05-2000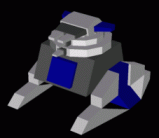 Click here to enlarge

...As you see I've found a little of free time to model this new toy for you all patterns ;)

Coming soon...


It is being time to post a new TA-Power map... is it ?
Posted by Silencer, 06-03-2000


Yep, a cool Oxygen tileset based map by Bardi



file map size? is 0.7MB only ;)

Author's note: An abandoned Core base has been taken by some other races, who wrote here things like: Down With Arm! or He hate Core! =P, beware with the plasma pumps, they can stop the nukes and Big Berthas´ shots.

Sea Level: 0
Tileset: Oxygen (By C_A_P and Blackthorn)
Map features: Oxygen
Map size: 10 x 10
Ram required: 16, better with 32 mb.
File size: 0,7MB ;)
Tidal strenght: 0
Gravity: 112
Num. Players: 4.

So check it out and have fun!


... that's the question
Posted by Silencer, 06-01-2000 / 06-02-2000


I was playing a bit with Rhino yesterday ...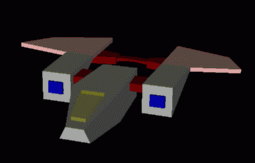 ... dream and feel free to send me suggestions for this concept

Maybe this picture helps...
Laterz


To play TA or not to play TA...
Posted by Silencer, 05-30-2000


Mr. Faramir_gr has been working hard in the making of new a-we-so-me build pics for several TA-Power units included into our Final Revision unit Plan.

...Less talk ad better I show you all some samples of his work:



The final Arm Pack0, a great AA support unit for Arm

The Arm Hermes tank will experiment several changes



And as final touch for this today's post, have a look at this screen shot...


Click here to enlarge

... Now, take your own conclusions about this freeware... Later ;)


We're concentrating more and more power... wow! ;)
Preview of the newest incoming TA-Power unit
From now, XCOMVeteran's AI is the official TA-Power AI for TA:K
Posted by Silencer, 05-26-2000


- First of all, I'm proud to officially announce the MapMaster C_A_P as a guest TA-Power member. As you know we've been working on the TA:K to TA tileset conversion and we're enjoying of working together. You'll see the awesome results of this work very soon!.


- Here I post the picture of our incoming unit


I'll post more details about it soon


- Another new TA-Power member... Now, you get a new high quality product for TA:K. We'll support this great epic game a bit more ;)
XCOMVeteran has been working hard on his new Veteran TA:K AI v1.5 profiles, so we officially release his work and we announce him as TA-Power member ;)



Click here to download

Author's note:

The TA-Power Veteran AI is the premium AI for TA:K. It's specifically designed for building attacking units and larger armies. It is available in 2 flavours; CUT and OTAK. It supports Creon, TABDD's Azurian race and XCOMveterans Orison race for TA:K

So, welcome aboard guys ! =)


Hey UHers, here it is the fixed Juno
Posted by Silencer, 05-25-2000


Yep, I forgot to inlclude the damage modifiers for both UH jammer towers. Heh sorry for the inconvenience. Re-download the unit and have fun guys.

Click to download the fixed Project Juno


To all, stay tuned 'cos I'll post hot news and more cool stuff soon ;)


The newest TA-Power unit: The first chemical war tower for TA!
New TA-Power member
Ready? ... Another Veruna screenshot for TA
Posted by Silencer, 05-20-2000


Latest reports indicate that the prototype weapon acts well as an alternative Neutron technology; with much less destructive power and weapon range though, but being effective on many battlefields....

Now you commander; your mission is to report your own battlefield results



Click here to download

- Our newest unit, The Core Cracker. In order to support the UberHack mod we release it as an UH compatible unit only. However, I'll post the OTA version on the next couple days. (btw, send to us your comments about this unit)


- The new Ta-Power member is Faramir_gr. He's a a very talented artist and he'll make TA art and new concepts for our incoming units. Welcome aboard commander! ;)


- Here I post another screenshot of the converted Veruna tileset for TA taked by VanTheMan:


Click here to enlarge

If I catch you saying that TA is dead... then I kill you! =P
God save Total Annihilation!


More TA:K conversion bits : Exclusive Veruna screenshots for TA!
Posted by Silencer, 05-18-2000


As I promised you all, here I post some bits of the converted Veruna tileset for TA:


Click here to enlarge
Click here to enlarge
Click here to enlarge

These screenshots are just some few samples of VanTheMan's work with the Veruna tileset for TA.

Later ;)


TA:K worlds for TA: We did it! =)
Posted by Silencer, 05-16-2000


The secret project has been revealed. All TA:K worlds have been converted to TA by the TA:K to TA Conversion Team; heheh...


Click here to enlarge

Ta-Power has been plenty involved converting 2 entire TA:K tilesets for TA. VanTheMan and Bardi have been working hard on this huge project. For example, the whole Veruna tileset is over 50MB!

As you probably know, C_A_P has posted on TA Universe 2 screenshots of the converted Taros tileset.

Visit TA Universe to see more screenshots and a picture of the incoming newest C_A_P's AI profiles Editor.

I'll post more exclusive details and screenshots on the next couple days, so stay tuned ;)