Questions and answers..



Posted by The Silencer 01-24-2004


Many TA fans are asking me about where they may go to play TA online. So here you got links to visit the 2 online quality services (made by TA fans!) that are currently active, after the death of Boneyards. So better you bookmark both of them because the War goes on.. ;)


Phoenix Worx Game Battle League


Allies-links section has been updated. Stay tuned.



Updated Taros download links & general site maintenance



Posted by The Silencer 01-13-2004


Links on the Tile-sets section to download Taros have been updated. Also there was a typo which has been already fixed. Thanks to Paul Kennedy for the tip. Also the 1 mile long 2K3 related news page has been shortened; so now you should load this page faster.



Zhon Tile-sets released: Pack 1 ready for the download!!



Posted by The Silencer 01-06-2004


Yes!; Wotan has finished his great work on Zhon's Tile-sets, packed up the first set and uploaded it to TAMEC - FilePlanet.

This way we're only 1 set away to reach the total TA:K to TA tile-sets Conversion Project. I'm sure that if your self is a mapmaker then you're going to enjoy with this one, and even more if you have got some kind of fast Internet connection, given that the download is around 70 MBs =). Zhon's Pack 2 will be uploaded during the next week, which will be another 70MBs file. Hey, we think that you'll be quite busy examining all the Tile-sets included in this first Zhon's Pack.

So these are the first round of 8 links (the ones posted on TA-Power's Tile-sets section have been updated too):


Zhon_Flats and Transitions

Zhon_Sandy Coasts and Islands

Zhon_Savannah Coastal Cliffs and Transitions

Zhon_Savannah Paths and Specials

Zhon_Sandy Coastal Cliffs and Transitions

Zhon_Savannah Cliffs and Ramps

Zhon_Savannah Coasts

Zhon_Savannah Rivers and Crossings



Additional links to the teaser Zhon map for TA are available below:


Cayambe: Map of the Week on PA: 28th October, 2002.

Included in TAMEC's Best maps of All Times list.


Now you move.. while we aim to Aramon to complete the job ;)

Stay tuned.



Happy New Year from TA-Power!!



Posted by The Silencer 01-03-2004


This render contains TAAN's highly detailed Evolva models, and as you can see, they look quite impressive close up. The scene was rendered in POV-Ray, taking 4 hours 45 minutes to render at 2048x1536. The textures include bump maps that I've been manually creating for the TA textures. Only about 40% of textures have bump maps at the moment, but where they exist, they certainly help to emphasize the details on the textures.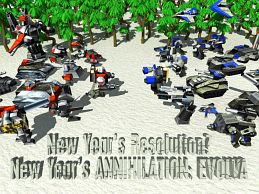 Choose your screen resolution and click on the following link to enlarge the picture

1024 1280 1600 2048

The models were imported into POV-Ray using a utility I've been working on that can convert 3DO models, GAF textures and BOS scripts to POV-Ray readable format. The BOS script conversion is evident in the scene in that every model has been posed using their walk and aim scripts, which is a lot easier than having to pose every arm, leg and gun. It only took a couple of days to put this scene together!


- Benito



Coming soon



Posted by The Silencer 12-21-2003


Here we go again! ;)



It has been a long haul..



Posted by The Silencer 12-09-2003


..indeed. Real life has been keeping us quite busy. Ok, here we go with new TA goodies, being the one we post today focused on TA mapmaking art.

Wotan delights you this time with the beta version of the upcoming final TAK 2004's feature file he's working on for replacement of the current TAK_ANIMS_1.ufo and CREON_FEATURES.ufo feature packs. This pack only updates these two files and no other releases of TAK features including those done by Datanut and Chinahook. This Beta (..95% done) includes new reclaim and burn animations for all major TAK trees, enhancements the Creon features and shadows as well as a few new items.

This is not the release version of this pack, but you can use its content on your maps as Wotan does not plan to change the format of the features..

Click here to download the file from TAMEC (14,7MB) and enjoy making these HQ TA maps you're figuring out ;).

And how not... stay tuned..



Do you have trouble removing stains from your 3DO files?



Posted by Benito 07-22-2003


For the past few months we have been working on an idea of Silencer's:

This is an utility to clean up 3DO files to perform the function that 3DO Builder's 'Clean Up Model' should do. At long last we are ready to release this utility, called 3DO Dry Cleaner. It has been designed to do four things:

1) Remove any faces that do not have a texture and whose color index is 0.
2) Remove any duplicate or unused vertexes.
3) Remove duplicate and unused texture names.
4) Maintain compatibility with 3DO Builder.




The aim of all this is to reduce the file size and memory usage of models, which should help to improve in-game performance. Just as an example as to the effectiveness of Dry Cleaning, the file sizes of all the Spider Pack models were reduced by an average of 43% (from a total of 374kB down to 213kB).

Post on our forum or E-mail us with any bug reports (there shouldn't be any, but we still recommend you backup your 3DO files before cleaning them), feature suggestions or ideas for other useful utilities.

- Benito